System information: [ Citavi Version 5.0-5.6, Windows 10, English, Google Chrome, MS Office 2013/365 64Bit, Acrobat DC ]
Hi everyone,
I used Citavi for a few months but then went on Internship for the past year where I didn't use it. Now I am back to working on my dissertation and trying to get back into it. Of course there is a new version, an I updated mine. I have a few questions that I hope you can help me with.
- When I open my dissertation in Word, is there a way of seeing which Citavi project it was last connected with? I found two projects that have around the same number of references but neither has one of the references in my document which I think the latest one should have had. I have multiple hard drives so it would really help me to know the name of the project before I do more searches.
- In Word how do I even know my dissertation is actively connected to a Citavi project, like if it's connected to the project I have open at the same time. Is there something I need to do to actively link the two, and if so, what do I need to do? And if I then open another project, it won't interfere, true?
- Finally, there was an update and I downloaded it. It keeps telling me that it will update upon close but it doesn't update. I have clicked on Install Update multiple times, it shuts Citavi down, and when I open it again, it's the same version. Do I need to do anything else to get it to update? Here is a screenshot of what the window I am using looks like.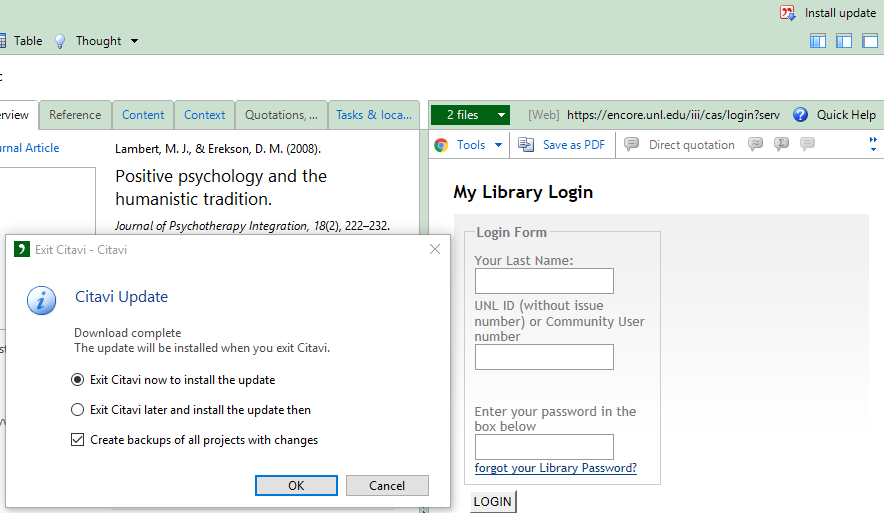 Thank you for any help!!
Empathy